BOMBER MEMORIAL

ROBERT GLENN "BOBBY" WRIGHT ~ Honorary Class of 1967
July 20, 1949 - December 13, 1979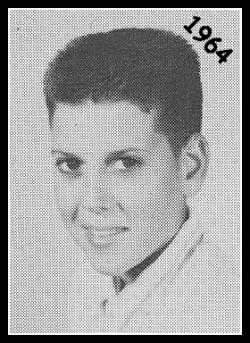 Bobby Wright, 30, of Kennewick, a pipefittter and welder for Johnson Control, died December 13, 1979, in Kadlec Hospital. He was born in Seattle on July 20, 1949, and lived in the Tri-Cities since his early youth. He attended Jefferson Elementary School, Chief Joseph Junior High School and Columbia High School with the class of 1967.

He graduated from Columbia Basin College with a degree in welding. For four years he served as a crew member of Alaska Fishing Fleets. He was a member of Plumbers and Steamfitters Local 598.

Survivors include his wife, Patricia Towne Wright ('67); parents, Mr. and Mrs. Wakefield Wright, and sister, JoAnn Wright Evans ('60).

Memorial services were held on December 17, 1979, in the Richland Lutheran Church. Burial was at sea.

Memorials may be made to the Washington State Heart Association in care of Mrs. G. R. McKinney, 511 Symons Street in Richland or to The Shriner's Hospital for Crippled Children in care of Tom Green at 2508 Road 64 in Pasco.

Einan's Funeral Home was in charge of arrangements.

Published in the Tri-City Herald on December 14, 1979.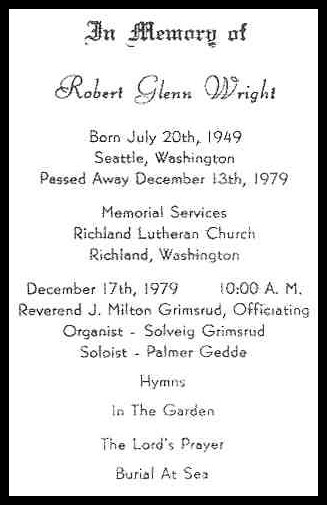 NOTE: His sister, Jo passed away in 2004.

Bomber Memorial put together by Shirley COLLINGS Haskins ('66).