BOMBER MEMORIAL

RAYMOND L. CONLEY, JR. ~ Class of 1946
December 24, 1928 - April 21, 2004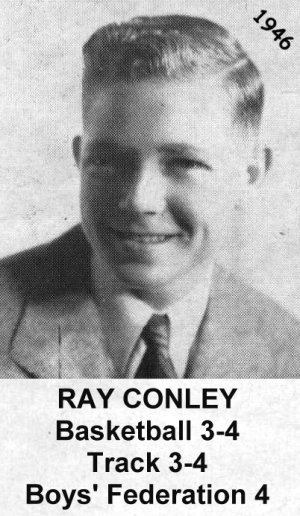 Ray, a long-time Richland resident, died April 21st, 2004.

Born in Muskogee, OK, December 24, 1928, he moved with his parents and brother and sister to Richland in 1944.

Ray graduated from Richland's Columbia High School in 1946 and Washington State University in 1952. That same year he joined General Electric at the Hanford Operation, subsequently moving to Battelle-Northwest from which he retired in 1991.

Ray's life was a varied pattern of interests, especially sports. A staunch WSU Cougar fan, often braving inclement weather challenges, he attended a string of 53 consecutive WSU-UW Apple Cup football games. Inspired by his father's deep interest in baseball, he and his brother, Gene, adopted the sport as their favorite. Ray was an avid golfer.

An important facet of Ray's life was the host of friendships build over the years. Neither the passage of time nor separation weakened those relationships he nurtured and treasured. He wanted, especially, to thank the Tri-City friends who helped through his final months.

People who knew Ray socially and worked with him admired his dedication to old-fashioned social and work ethics.

He was a 30-year member of the Tri-Cities Elks Lodge #2755 and a member of Moose Lodge #482. Ray was a founding member of the Richland Club 40.

He was preceded in death by his mother, Eva B. and father Ray, Sr.

He is survived by his sister, Billye Drew (Michael); his brother Donald Eugene Conley (Katherine); aunts Jo Evelyn Culp (Loren) and Vera Galvin; cousins Karsten Lewis, Roger Lewis, and Barbara Tainer; nephews Ryan Drew, Eric Drew and Gene Raymond Conley; nieces Kitty Quick and Kelly Malcomson.

Funeral services will be held at 2:00 p.m. Saturday, April 24, 2004, at Einan's Funeral Home in Richland. Entombment will be in Sunset Memorial Gardens.

Memorial contributions may be made to the Tri-Cities Chaplaincy Hospice House, 2108 W. Entiat Ave. Kennewick, WA 99336.