BOMBER MEMORIAL

WILLIAM E. "BILL" BRUGGEMAN, JR. ~ Class of 1950
September 23, 1932 - March 15, 2004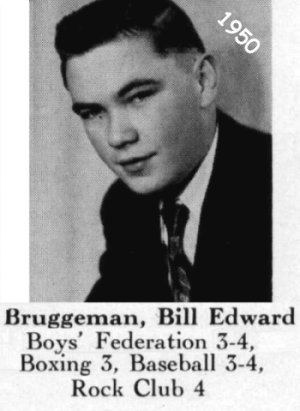 William E. Bruggeman, Jr. of Malaga, WA died at his home surrounded by his family after a courageous battle with cancer. Bill was born in Gordon Nebraska and in 1944 the family moved to Richland, WA where Bill graduated from Columbia High School in 1950. After serving in the Navy for four years Bill started a career as a cabinet builder and started three different shops; Custom Manufacturing in Ballard, and Specialty Wood in Everett and Fife. He retired from Specialty Wood as President in 1990.

Bill enjoyed water and snow skiing, snow mobiling, traveling and the Mariners. He is survived by his loving wife, Maxine; his brothers, Del (Patti) of Richland, Earl (Judy) of Kirkland, Larry (Ellen) of Pasco, and Jim (Linda) of Redmond; his foster-son, Lance (Vesta) Brown of Wauconda, step-children, Jim (Jane) Johnson of Monroe, Richard (Marla) Johnson of Everett, Naomi Johnson, Donald (Cindy) Johnson and Darrold Johnson all of Monroe; 25 grandchildren, 14 great-grandchildren and his long time best friend Dick Cunningham.

Bill was preceded in death by his parents, first wife, Fran, and step son, Paul Pinkston.

Funeral Mass will be celebrated Thursday, March 18, 2004, at 1:30 p.m. at Blessed Sacrament Church, 5041 9th Ave. N.E., Seattle 98105. Hoffner Fisher & Harvey Memorials in Bill's name may be made to Central Washington Hospital Home & Hospice, 903 Red Apple Rd., Wenatchee, 98801; or your local Cancer Society.

Published in print on 3/17/2004.