BOMBER MEMORIAL

PEARL LILLIAN HELGESON FREUDENDAHL ~ Class of 1956
died June 13, 2004


~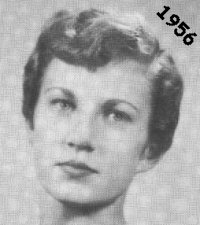 Pearl passed away peacefully June 13 at home after a short illness surrounded by her family.

She is survived by her husband, Gary Freudendahl; son, Brian Freudendahl of Concord; daughter, Tracy Freudendahl of Sacramento; sisters, Vivian Johnson and husband, Glenn of Redmond, Wash., Carol Crow and husband, Don of Kennewick, Wash., Karen Chappell of Houston, Texas; brother, Duane Helgeson of Chico; and her in-laws, father-in-law, Lou Cola of Richmond, sister-in-law, Sharon Parmelee and husband, Dick of Moraga, and brother-in-law, Dennis Cola and wife, Sharon of Pinole. She has many nieces and nephews and great-nieces and great-nephews.

She is preceded in death by her father and mother, Walter and Ilsa Helgeson; and her brothers, Tom and Richard Helgeson.

She was born in Minnesota and was raised in Washington. She moved to California, where she met her husband of 43 years. She worked as a bookkeeper for various places over the years, many local. She also enjoyed flower arranging and worked in local floral shops.

A visitation will be held today from 5 to 8 p.m. at McCune Garden Chapel.

In lieu of flowers, please make donations to the NorthBay Hospice Organization, 1800 Pennyslvania Ave., Fairfield.

A funeral service for Pearl Lillian Freudendahl was held at 10am Tuesday, June 22, 2004 at McCune Garden Chapel.