BOMBER MEMORIAL

PATRICIA "PATTY" DOCTOR ROBERTS-CAHOON ~ Class of 1948
October 14, 1930 - January 25, 2005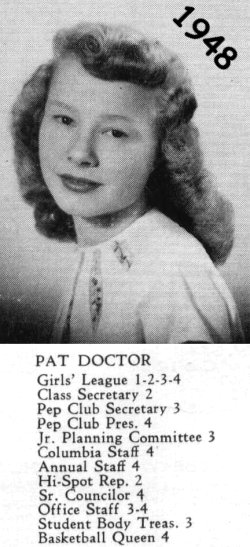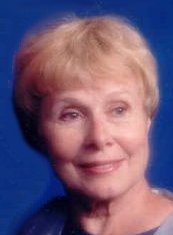 Patricia Doctor Roberts Cahoon
Our Joy

Patricia Doctor Roberts Cahoon, beloved wife, mother and grandmother, was blessedly released from a long and patient battle with Alzheimer's Disease on Tuesday, January 25, 2005. Patricia was born October 14, 1930 in Scandia, KS to Paul Sanger and Ruth Albro Doctor. She married Keith Bunot Roberts ('48), D.D.S., in 1948 and together they had six wonderful children who honor and adore her. Keith passed away in 1972. She met and married Lysle R. Cahoon in 1989; they savored their time together, traveling worldwide, serving an LDS temple mission in Sydney, Australia, and lovingly caring for each other. He was her rock; she was his joy.

Our Mother was many things: she was creative, articulate, witty, compassionate, and an accomplished artist and homemaker. Her greatest joy in life was her family, and her legacy to us is love.

Patricia is survived by her beloved husband Lysle R.Cahoon and his dear family; her children, Melinda (Ken) Zabriskie, Kim (Sheryl) Roberts, Jaime (Coby) Roberts-Jones, Jana (Bruce) Roberts Benzon, Lindsey Roberts, Juliane Roberts Burton; twenty-two grandchildren whom she adored; and her sister Paula (Elwood) Doctor Werry ('51).

She was preceded in death by her parents and husband, Keith Bunot Roberts.

Funeral services will be held at 12:00 p.m. on Friday, January 28, 2005, at the LDS 18th Ward, 135 North 'A' Street, Salt Lake City, Utah. No visitation prior to services. Grave dedication and interment will take place in Seattle, WA at Acacia Mausoleum, 13301 Lake City Way NE, on Saturday, February 5, 2005 at 1:00 p.m.

For further information, contact Jaime Roberts-Jones at 1-425-776-1775.

Funeral directors, Russon Brothers, SLC. http://www.russonmortuary.com/obits.html

Click HERE to "sign" the Online guestbook for Patty

Published in the Salt Lake Tribune on 1/27/2005.