BOMBER MEMORIAL

EUGENE FRANCIS "GENE" LATENDRESSE ~ Class of 1952
March 29, 1934 - October 22, 2005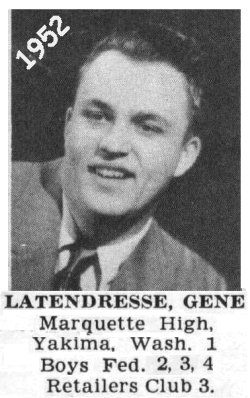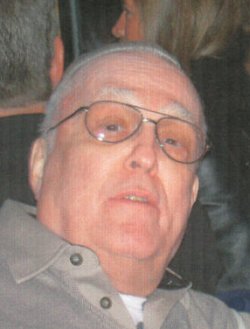 Eugene "Gene" F. Latendresse, 71, died at home in Richland on October 22, 2005. He was born in 
Yakima to Leonard and Virginia Latendresse on March 29, 1934.

In 1945 the family moved to Richland where Gene grew up and graduated from Richland High in 1952. 
He served in the Marines and the Navy, worked in construction as a painter at Hanford, other places 
in the U.S., and overseas. He loved to play cards and worked in several casinos in the area. He was
a member of Alcoholics Anonymous for 42 years.

He is survived by his mother, brother Fred ('57) (Dorothy), sisters Jan Strickland ('54), 
Linda Janin ('63), Claire ('69) (Jeff) Huddle, and several nieces, nephews, aunts and cousins.

He was preceded in death by his wife, Alice, his father, a niece, and a nephew.

A memorial service will be Saturday, November 5, 2005 at 2:00 PM at Einanís Funeral Home, Richland.
A gathering will follow at Crazy Moose Casino, 510 S. 20th Ave., Pasco, WA.

His favorite charity was St. Jude's Children's Hospital.