BOMBER MEMORIAL

JOHN M. UNSER, JR. ~ Class of 1963
July 4, 1944 - April 14, 2005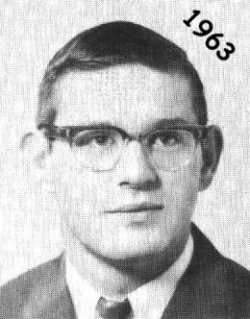 John M. Unser, 60, passed away on April 13, 2005 at his home in Linton, N.D.

He was born July 4, 1944 in Strasburg, ND. At age 14 he moved with his family to the Tri-Cities where he resided for the next 46 years. Following graduation from Columbia Highschool in 1963, he joined the Air Force where he served one tour of duty in Vietnam. A Quality Control Inspector at Sandvik Special Metals, he retired in 2000 and moved to Linton, ND.

"Never let life own you, always own your life." John lived by these words he spoke. A man with a kind heart, a helping hand and enough love to give worth two lifetimes. Enjoying life and living each day to its fullest, he succeeded in this over and over again. All who knew him were blessed with the stories he would tell that filled a room with laughter. Whether fishing with friends or just being with family and friends, the time spent with John was always warm and welcome and left a person looking forward to the next visit. Though he will be greatly missed, the memories of him will be treasured forever.

John is preceded in death by his father, John Unser, Sr., mother, Mary Unser, and brother-in-law, Melvin Schmaltz.

He is survived by his three sons Rick Unser, Chris Unser and wife Tracy, and Jason Unser, grandchildren, Amanda, Jacob, Kendall, and Adam, devoted and loving friend Carol Chavez and her sons Dustin and Devin and their families, two sisters, Helen Schmaltz of ND and Lillian Baumgartner and husband Bill of Richland, and numerous nieces and nephews. and numberous friends in the Tri-Cities and North Dakota.

A memorial service will be held at 2 pm, Monday, April 25, 2005 at Einan's Funeral Home.