BOMBER MEMORIAL

LLOYD CARTER "LUCKY" RUSSELL ~ Class of 1967
December 4, 1948 - February 19, 2005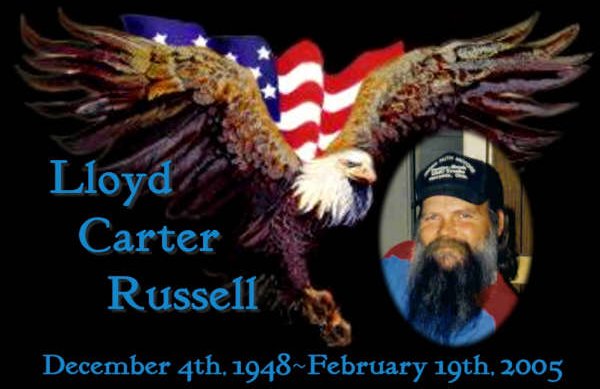 "I shall be telling this with a sigh
Somewhere ages and ages hence:
Two roads diverged in a wood, and I—
I took the one less traveled by,
And that has made all the difference."
-Robert Frost (1874–1963)

excerpt from his poem, The Road Not Taken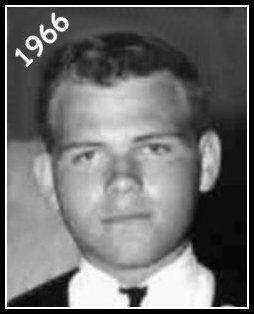 Lloyd Russell spent his life taking "the road less traveled."

Born in Richland on December 4th, 1948, to Samuel Carter and Wanda Jane Turner Russell, he attended Columbia High School, enlisting in the U.S. army soon after his graduation in 1967.

Following his discharge from the Army, he spent the majority of his life traveling back and forth across the U.S. The pattern of his life was that "way led unto way," as he tried his hand at a multitude of occupations.

He had his own company in Colorado, remodeling homes as a contractor. Changes in circumstances took him down the road again, eventually bringing him to Snowflake, AZ where he purchased a homestead outside of town. "Lucky" lived simply in the desert, enjoying the beautiful sunrises and sunsets, as well as the company of his dogs and a few special friends. He got in touch with his father and the rest of his family back in Washington, getting to know some of the younger members for the first time.

He lost his left leg in a motorcycle accident, but not his love of bikes. He bought the parts to custom build a bike that would accomodate his prosthetic leg... an ambitious project that sadly was never completed. He loved meeting people, going to swap meets and motorcycle rallies, crafting models,and listening to country music. Above all, he valued living life his own way, despite the cost.

Finally, at age 56, Lloyd came to the end of his "road less traveled" by falling asleep next to the wood stove on his desert homestead.

Preceded in death by his parents.

Lloyd is survived by his sisters, Edna Russell Gonzoles ('65) and Ruth Russell Pierson ('71), as well as a nephew, Michael, two nieces, Jennifer and Alyssa, and a great-nephew, Tennessee.

His family would like to thank his special friends in Arizona, Geraldine Smith, and Paul Ellison, as well as the many others who watched out for Lloyd following his disability. They also would like to extend their gratitude to the members of the Navajo County Sheriffs Department for their compassion and continued interest in Lloyd during his final years.

Lloyd's final resting place will be in Washington, by the Columbia River he loved so much, following private family services.

Friends are invited to contribute generously to the American Humane Society and to their local Veteran's organizations in lieu of flowers.