BOMBER MEMORIAL

MARGARET ALICE LUTHER WOOD ~ Class of 1947
May 3, 1929 - June 4, 2014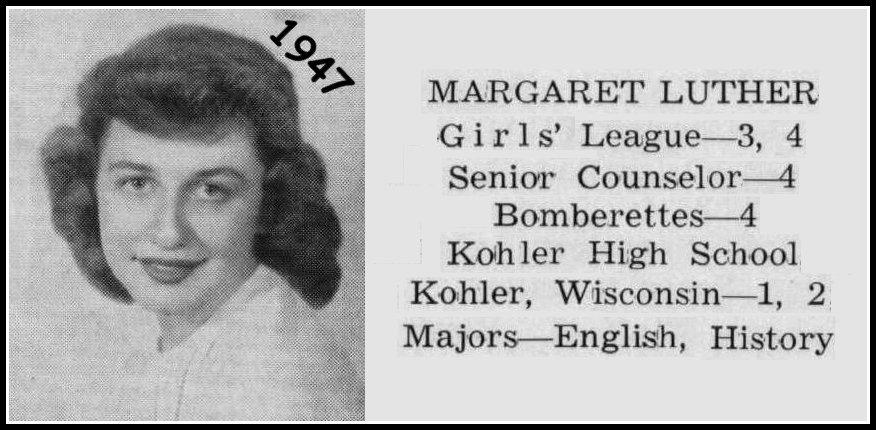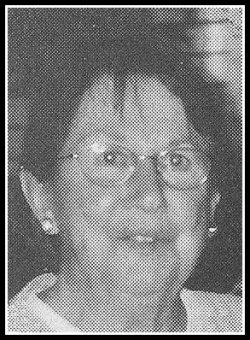 Margaret passed away June 4, 2014. She was born on May 3, 1929, in Kohler, WI to Adolph and Olive Luther. Margaret had fond childhood memories of her time with family, church and the community in Kohler.

In 1945, at age 16, she moved to Richland from Kohler. She attended Richland's Columbia High School and graduated in 1947.

She met Ed Wood in front of the Hi-Spot and they were married in 1948. As a couple, Ed and Margaret had a busy and active life. In the early days, they spent most of their time with the extended Wood family, playing games, telling jokes and water skiing. In 1966, they built a cabin at Spout Springs where they enjoyed skiing, snowmobiling, watching birds and time with friends.

During the 1970s, Margaret helped establish the local chapter of NAMI (National Alliance on Mental Illness) and served in leadership roles. She offered support and education to hurting families, and created bridges of understanding between law enforcement and the mentally ill. She also gathered resources to help establish Jadwin House, a home for the mentally ill.

At 51, Margaret received her AA degree from Columbia Basin Community College. She loved reading and was a life long learner.

Margaret and Ed Wood were married 54 years until his death in 2002. At age 85, she courageously made the decision to move to Vancouver, WA and was looking forward to a new life near her daughter, Janet, and family.

Margaret was preceded in death by her husband Ed ('45 and '47) , her son Michael ('67), her daughter Christine ('68), her parents, and her sister, Nancy Luther Arbuckle ('49).

Margaret is survived by her daughter, Janet Wood Asbridge, (Bob), and grandchildren Joe, Dan, Eric (Genoa), Mark (Jessica), and great-grandchildren, Ben, Berit, and Cannon, and many nieces and nephews.

Services will be held at 1pm Friday, June 27, 2014, at Southside United Protestant Church, 517 Jadwin Ave., Richland.

Published in the Tri-City Herald on June 15, 2014.

Legacy.com Guest Book will 7/15/14.